Robot Wars Live!, Sheffied Arena 2001
SMIDSY appeared in Robot Wars Live at Sheffield arena on the 28th and 29th of July 2001. We took this as an opportunity to give some different people a chance to experience competing in RobotWars, Alan Coubrough and John List stood in for Andy and Mik. This was originally posted by Alan under the title 'Crikey that was fun' (and has been edited slightly for the website).
Saturday afternoon:
On arrival at the Arena I left the others unloading whilst I booked us in. As I walked into the pit (the entire rear half of Sheffield Arena!) I was greeted with a cry of 'Smiiiidsy!' from each of the crew as they recognised the T-shirt (which was nice). I signed in, found out that we're in the final bout with two other bots:
Derek, a scary pyramid shaped CNC machined thing with a CO2 powered flipper at the front and a Bosch powered spinning disk at the back. The white box is a set of strobe lights.
Black Knight, a dad and 2 kids BalsaBot that had been built in an amazing 8 days. It had a petrol powered grinding blade at the front, a cardboard shield and a mean stare.
We weigh in at 99 Kg, but that was only after we came in at an intermittent 96 cus they had a bad connection…
Everyone's friendly, the guy with Black Knight (another Steve Parker from Doncaster!) says he doesn't mind being trashed, we agree a plan with Derek for us to hold the knight's head in SMIDSY's Jaws whilst they cut it up :) The bout starts, (it all goes a bit fuzzy now) and basically Black Knight gets walloped by us both, Shunt joins in, we have a scrap with Derek, and clout it with the disk. It jars Derek so badly that its safety link falls out :) Black Knight is finished off by Shunt who then starts scrapping with us. A few seconds before the bout ends, Shunt puts its pick through our top armour and into the nice new Cyclon battery :(
Bout ends and it dawns on me that we've won!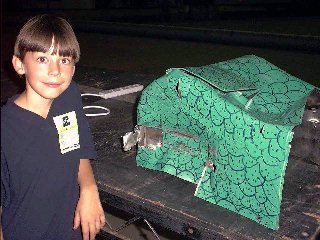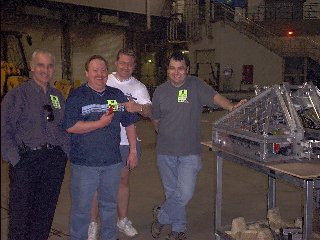 As we are packing up, we are asked by the real Derek if we can be a reserve for the following day! We accept.
Game over for the day, we load up and go home. Andy takes us to a very nice pub and then to a very nice curry house in the early hours. We get home, drink coffee and then decide to rebuild the battery packs and do some fettling to prepare SMIDSY for later that day.
Sunday:
We get to the arena for about 9:45 and sign in as per the previous day.
Bout 1:
The first bout is against Brute Force and Ignorance. A large wedge with a flipper, decorated to look like an elephant.
As soon as we arrived in the booth the transmitter 'low battery' warning sounded, giving us about a minute before it died. We switched it off until the bout started and were in such a hurry to get it over SMIDSY went on the 3 of 3,2,1… Time goes so slowly when you're in the booth. We stopped half way across the arena and waited for the 'activate'…
We rammed them, pushed them around, hit them with the disk etc. They stopped working at some point having never managed to use their flipper.
The transmitter switched off entirely but there was so much interference that the bot would occasionally drive across the ring, or spin around, so it looked as if we were moving. Craig came and stood next to us for a better view and to ask what was going on…
By leaving the transmitter off for 30 seconds we could get 10 seconds of control before it switched off again, which gave us just enough control to avoid Shunt (and park over the flame pit, which failed to set fire to the vinyl).
But we won!
We broke the disk on Shunt's chassis (sheared all 8, 8mm bolts) =:-o We'd made the disks look more aggressive by aligning them 90 degrees out of phase. The bottom line was that the first disk must have stopped dead when it hit the rather solid Shunt (I'd had the power on for a full 40 seconds…) and the second disk just carried on through the bolts! We replaced the bolts okay and it was fine in the next bout.
Bout 2:
A 4 way melee against Immortalis, Trident and Viking, a non-starter from the morning.
Immortalis looked fantastic, a real Dr. Who special effects job with all sorts of bits and pieces glued on to give it a great 70's sci-fi look. It used relays for motor control and had such poor control that they smashed bits of decoration on the way out to the arena. It had twin hedge trimmers for weapons and a dozer blade that was supposed to lift.
Trident was a very compact tracked robot, using huge sprockets and triplex chain covered in mountain bike tyre tread - the team was wearing white lab coats with an 'insect repair' logo, one was wearing a scary white mask with attached wig.
Viking was covered in checkerplate, and had a disk that Derek wouldn't let them use. Underneath it was like most Series 3 robots, with wheelchair motors and wheels, spindly box frame and wires everywhere. Nice use of motorbike indicators for eyes though ;-)
We attack Trident with the disk and I think it died there and then (well, it was dead when it landed, so we pushed it into the pit :) Immortalis was quietly wrecking itself against any immovable object cus they couldn't steer :( and Viking started tussling with us. This was the point where we lost drive again (low batts). We got shoved into a corner and managed to keep Shunt and Viking at bay with the disk, we got pickaxed again but the damage wasn't so bad.
If we'd have gone for Viking first I think we might have won as the other two were BalsaBots but then, who can say :)
Memorable stuff:
At the Arena (whilst Craig Charles was interviewing Robin up above) Killalot, not having enough traction to get up the ramp from the pits to the stage had Derek (the Man In Charge) holding its remote on full forward whilst kicking the robot up the arse to get it up the slope :)
Having the biggest attack of butterflies ever, just before the bout
Feeling how warm the insides of a Cyclon are when you poke your finger through an axe hole in the armour into the battery compartment…
Battery acid in a fresh cut on my finger =:-o
Having a small crowd form out the back of the arena to watch us when Andy was brazing some new carbide 'teeth' onto the disc
Making some kid's YEAR when I gave him one of the old, broken carbides (it was still warm) and he was, quite frankly, stunned.
Being addressed as part of the SMIDSY Collective (bloody good idea those T shirts, when can we get some more made?) by all and sundry and…
Derek and Val, the organisers, thanking us for:

Having a good showing both days
Agreeing to stay for an extra day
Staying and mending SMIDSY when we coulda gone home victorious
Not being a Problem
Top entertainment.
Oh, and Derek took me to one side and said 'as far as I'm concerned, you're in.' I leave Mik to decode this comment but it sounded pretty good to me :)
Thanks all
Alan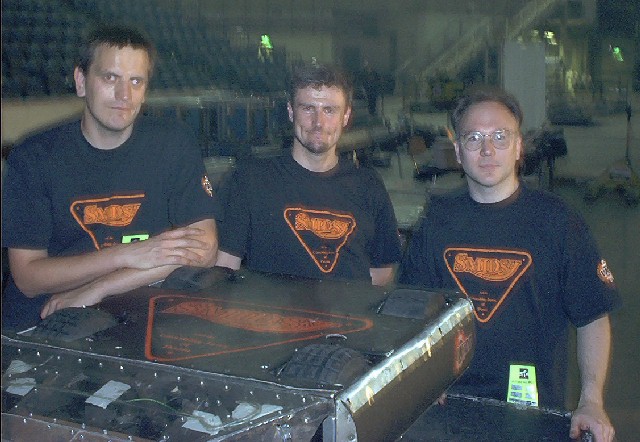 John, Alan, Robin and SMIDSY, just before our first bout.